Scale Yourself to Scale Your Company
The Velocity Group Founder Retreat is an immersive three-day-experience specifically designed to help you scale your skills and address the leadership issues that are holding you and your company back. Over a long weekend, you will deep dive with our coaches and a small group of the most promising startup founders & CEOs on the issues that matter most as you scale your business.
Together, we will cover:
1) Leading the SELF - Build the internal resilience to carry you all the way to exit
2) Leading the EXECUTIVE TEAM - Learn to implement strategies and tactics that will scale the capacity of your leadership team
3) Leading the COMPANY - Master the art of cultivating and inspiring a high performance culture throughout the entire organization
This weekend is designed to get you actively involved in your own growth so you have the tools to achieve breakthroughs that will take your leadership and your company to the next level. Our work together will help you break free of the doubts and negative habits that hold you back and move forward with confidence, creativity, and focus.
THE EXPERIENCE
Nestled among the redwoods 2.5 hours north of San Francisco, The Sonoma Coast Founder Retreat is an intimate event designed to provide you with the tools you need to take your company the distance. The complexity and pressure of scaling a company after you've achieved product-market-fit is new territory for most founders. Our coaches have helped executives from many of the top companies in Silicon Valley navigate these waters time and again, and are ready to help you find your way, as well.
This three-day weekend experience will take you on a journey to build your skills around three levels of leadership detailed above:
Techniques and practices to take care of yourself

How to maintain composure and focus under pressure

Skills for achieving greater vulnerability & more inspirational storytelling

Methods for holding your executive team accountable

Strategies for instilling cultural norms that drive higher performance across the organization

As well as plenty of sumptuous, gourmet vegetarian cuisine, rolling hills, scenic walks, and deep conversation with fellow founders
REQUEST AN INVITATION
This retreat is by invitation-only for startup founders. If you're interested, please reach out and we look forward to speaking with you.
WHAT TO EXPECT
Our work together will include a mix of full- and small-group sessions around self-care and resilience and exercises designed to give you new tools for leading your teams. We will also have group practice sessions to help you tell the story of the values and vision of your company so you can raise more money and attract, inspire, and retain top talent.
Although we have a jam-packed agenda of sessions designed to help you lead, we will also begin every day with an optional yoga & meditation, and there will be time for reflection in the afternoons to take advantage of the property's hiking trails, streams, and ponds.
TESTIMONIALS
THE LOCATION
Ratna Ling, a scenic 90 mile drive north of San Francisco, is located on 120 acres among the towering redwoods of coastal Sonoma County. It offers a quiet, naturally sacred space, in elegant private cottages with an expansive view of the surrounding countryside where you may catch glimpses of the fauna, including deer, wild turkeys, rabbits, and quail.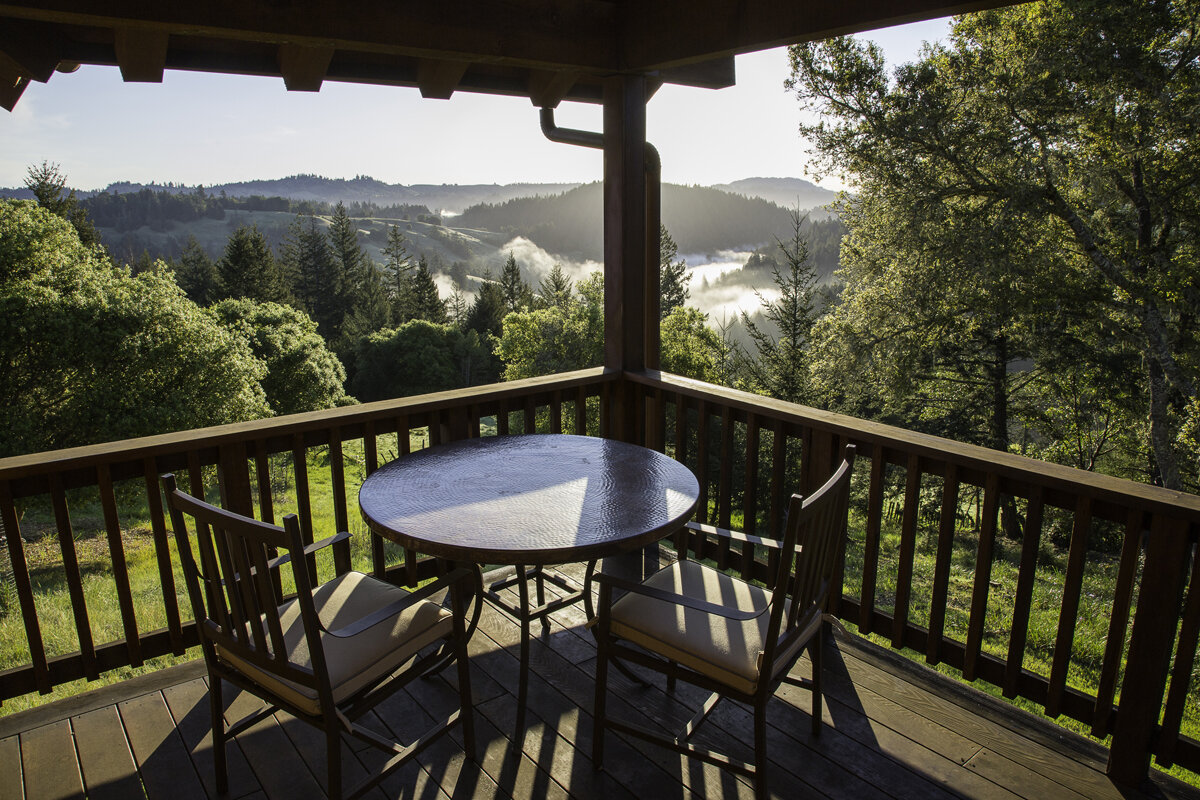 THE ACCOMMODATIONS
Experience tranquility and elegance in private, deluxe cottages with gardens nestled in a wooded landscape. Stay cozy with the gas fireplace and enjoy fresh air in the outdoor deck with views of the countryside.
John Baird, PHD - Chairman
John is considered to be one of the premier coaches in Silicon Valley, having coached executives from companies like Apple, Nike and Twitter, as well as new venture founders from companies including DoorDash, Flexport, Grail, and many others. He has coached CEOs and senior executives for over 20 years, with a specialty in coaching start-up CEOs. His early study of start-up CEOs, Survival in the Fast Lane, provides a research-backed conceptual and practical framework for coaching start-up CEOs. John holds a Ph.D. in Organizational Communication and Leadership from Purdue University.
Edward Sullivan - CEO
Edward Sullivan's 20-year career has taken him around the globe coaching and advising start-up founders, Fortune 100 executives, and heads of state of foreign nations on 3 continents. His client list includes executives from Bombas, Charles River Ventures, Clover Health, Foundation Capital, Google, Slack, and many others. He holds an MBA from the Wharton School and an MPA from the Harvard Kennedy School.
Elizabeth Kurfess
Elizabeth specializes in culture development, women's leadership, team collaboration and leadership development programs across multiple functions and industries for start-ups, middle market businesses, and large global companies. Prior to coaching and consulting, Elizabeth worked for GE in a variety of global leadership roles in marketing, product management, operations and sales throughout many GE businesses, including Energy, Capital, Ventures, Appliances, and Corporate.
REQUEST AN INVITATION
If you believe the Velocity Founder Retreat may be right for you, please tell us a little about yourself and your company below. One of us will be in touch right away to discuss your goals and if this weekend can help you accomplish them.